Davalynn Spencer on cowboy romance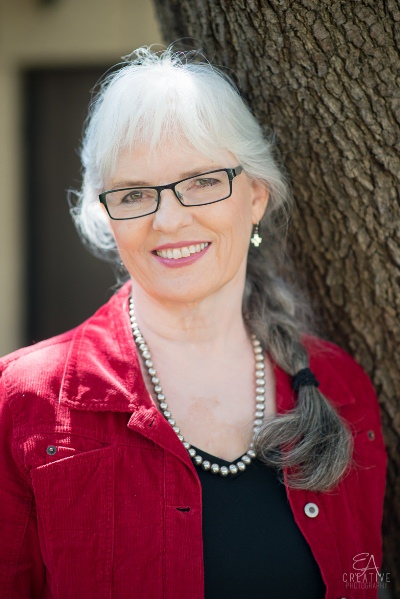 Wife and mother of professional rodeo bullfighters, Davalynn Spencer writes cowboy romance, both historical and contemporary. She is an ECPA and Publisher's Weekly bestselling author of eleven novels and winner of the Will Rogers Gold Medallion for Inspirational Western Fiction. And she's fairly certain her previous career as a rodeo journalist and crime-beat reporter prepared her for life in Colorado wrangling Blue the Cowdog and mouse detectors Annie and Oakley.
Tell us about your newest book.
Lena Carver works as her physician brother's medical assistant, housekeeper, and cook despite her disfigurement from a childhood accident. Each year, the Christmas holidays come with contradictions—cherished memories of a mysterious encounter and painful recollections of a great loss. She lives with the belief that she is beyond love's reach until a dark-eyed cowboy arrives broken, bruised, and bent on changing her mind.
Wil Bergman wakes in a stranger's house with a busted leg, a bullet-creased scalp, and no horse. Trail-weary, robbed, and penniless, his dreams and plans for a future are suddenly unattainable. Forced to recuperate in the home of a country doctor, he finds himself at the mercy of a surgeon whose sister's healing touch has power to stitch up his lonely heart and open his eyes to the impossible.
What genre do you focus on and why?
Primarily I write historical romance, but occasionally I venture into contemporary settings. Romance offers such hope and encouragement, and Christian or inspirational romance sheds light on the source of our true hope, encouraging people to see God's place in their own day-to-day lives.
Why do you write? What drives you?
Since childhood I've been compelled to put into words what I see and taste and touch – to bring the senses to life on the page. I love reading stories with laughter, danger, grace, and love, so that is what I write.
Who is your main character, and how did you choose that name?
I needed a good German name for my character, so a little research led me to Wilhelm Bergman. Wil is the unlikely hero in Snow Angel because he's unconscious when we first meet him. But, oh, he comes to life in an unforgettable fashion that gets more than the attention of lovely Lena Carver.
What does a day in your writing world look like?
As a pre-dawn person, I rise early. Blue the Cowdog and I walk, and I spend time with the Lord before the world comes crashing in. My goal is to have the house (and myself) in order, breakfast out of the way, and chores completed so I can sit down at the computer by 8:30 a.m. I work all day because writing is a job and no one else is going to do it for me. In the winter, I stop at 5 p.m. because that's about all the computer time my eyes can take. Breaks intersperse my day, things like lunch, getting the mail, splitting firewood for the wood stove, playing the piano – all good nonwriting activities that keep me and my brain active.
What is the hardest part of being an author? Why?
Marketing is the hardest part of being an author for me because I don't like it. I don't like going to the dentist either, but I have to do that too.
What's the best part of your author's life? Why?
I "live" the stories as I write them, and I enjoy that. There is an area not far from my home that gives me a sense of stepping into my story setting, especially in the summer when the meadow larks are singing and cow-calf pairs dot the pastures. But even better than that is hearing from a reader who comes away from one of my stories with all the little gems I tucked between the pages and folds. To hear that a reader "gets it" – that is priceless and worth every hour at my desk.
Do you have other books? We'd love to know.
I have a dozen other books, all listed on my website book page at https://davalynnspencer.com/davalynn-books/or on my Amazon author page at https://amazon.com/author/davalynnspencer.
What are you working on now?
I'm working on two projects, one a contemporary romantic suspense and the other an early moving picture story set in Canon City, Colorado, in 1910 when it was the early movie mecca of the West.
Website: https://www.davalynnspencer.com
Link to book: https://amzn.to/2pPaLbEor https://davalynnspencer.com/books/snow-angel/
Social media links:
Quarterly Author Update and free e-book: http://eepurl.com/xa81D
Blog: https://davalynnspencer.com/subscribe/
Facebook:https://www.facebook.com/AuthorDavalynnSpencer
Twitter: https://twitter.com/davalynnspencer
Goodreads:https://www.goodreads.com/author/show/5051432.Davalynn_Spencer
Pinterest:https://pinterest.com/davalynnspencer/boards/
Amazon Author:https://amazon.com/author/davalynnspencer
BookBub: https://www.bookbub.com/authors/davalynn-spencer
CAN:http://christianauthorsnetwork.com/davalynn-spencer/
Follow me on social media!