Dating Through the Years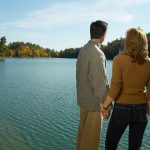 As the years go by and your marriage deepens and matures, be careful not to get apathetic about your relationship.  Remember what a great adventure your marriage has been—and still can be.
While it's easy to take each other for granted, it's important to reengage as soon as you realize that your relationship is beginning to slip. And now, so early in 2013, it's a good time to take a look at your relationship and do what you need to do to strengthen it. All it might take is a date, or a look at your photo albums, or a walk in the park, or a few extra deposits in your mate's love bank.
That might mean getting her flowers, as Dale so often does, or making a favorite dessert, as I often do. It's surprising how little it takes for the return on investment. Never, ever stop investing in your relationship.
How would you rate yourselves, as a couple, on how well you show patience to one another? In talking over tough issues? In discussing the kids? In making plans together? Discuss these ideas and pray together, asking God to help you grow.
Now, decide from the list below, which communication-building traditions you might like to establish in your marriage this year.
• Morning and evening chats: start and end your day with a few minutes of uninterrupted time together.
• Home-from-work transition time: when one or both get home from work, take a few minutes to reconnect. Never be "too busy."
• Kiss-n-hug: don't go a day without a heartfelt kiss and hug. It may sound silly, but it can be a tradition you'll be grateful you established.
• Mealtimes: pray over the meal, holding hands. We started the tradition of giving each other a quick kiss after we pray; kids might think it's sappy, but showing affection is a good model for them.
• Dates: never lose the romance. Go on dates regularly, and guys, if she says she needs a date, listen to her!
• Prayer time: establish daily prayer time together.
• Decision time: when decisions need to be made or concerns need to be aired, set aside a specific time to do so.
Build traditions that transcend everyday life and strengthen your marriage. It's a daily choice…to love unconditionally, to sacrifice substantially, and to enjoy each other as long as you both shall live.
Adapted from The ReMarriage Adventure: Preparing for a Lifetime of Love & Happiness and Countdown for Couples: Preparing for the Adventure of Marriage. Copyright © 2012, all rights reserved.
Follow me on social media!