Be-Attitudes for the New Year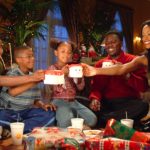 Emotions, stress, expectations, and frustrations can easily find their way into the blending family life, so it's important for you as a couple to try and address probable stressors ahead of time. Because our attitudes have a lot to do with our actions, here are eight be-attitudes that can help you manage your blending family emotions, attitudes, and decisions:
• Be positive: Prioritize what's most important and why, and don't sweat the small stuff. Tackle the mundane with a positive attitude and enthusiasm, even if it's planning your new year resolutions. And be sure to model a positive attitude for your kids.
• Be unselfish: Pull your own weight. Don't expect the other to do all—or even most—of the work. Do your fair share and don't keep score if you feel you're pulling more of the load at times. Especially as you look to the new year, this is a gift that keeps on giving.
• Be willing to use your skills and abilities: Use your strengths. If he's a good cook and she's a good organizer, go for it. Don't feel tied to traditional duties—but use each other's skills to your mutual benefit. And that should go for the kids, too!
• Be a team: Take on work as a team or "divide and conquer." Just be sure to choose duties together and compromise peacefully when necessary. Model for your kids how to do this well.
• Be servants: Just as Jesus washed His disciples' feet, serve each other—by doing something without the other knowing it or by making dinner when the other has had a tough day—serve with a true servant  spirit.
• Be content: You know that there are always things to be done, but avoid becoming discontent and grumbling. Extra chores during the blending family adjustment season are a part of life, so be content with the transitions that come.
• Be adaptable to change: When one of you is sick or has too much on their plate, the other can pick up the slack. And show your kids that life is full of change and it's best to have a be-autiful attitude about it.
• Be careful to use time management: We can always put off those mundane things, but they'll just pile up and get worse. Manage your time so you can deal with things on a daily or weekly basis; this will keep your holiday schedules running more smoothly.
Adapted from The ReMarriage Adventure: Preparing for a Lifetime of Love & Happiness and Countdown for Couples: Preparing for the Adventure of Marriage. Copyright © 2012, all rights reserved.
Follow me on social media!