Author Sherri Stewart
Sherri Stewart loves a clean novel, sprinkled with romance and a strong message that challenges her faith. Her passion is traveling to the settings of her books, sampling the food, and visiting the sites. Sadly, her trip for this book to Wales and London was cancelled due to COVID. A recent widow, Sherri lives in the Orlando area with her dog, Lily. She shares recipes, tidbits of the book's locations, and pix in her newsletter.
Tell us about your newest book.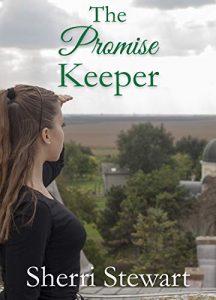 Meadow meets Jonathan by chance when they end up with the same seat ticket to a concert in London. Serendipity or the providence of God? They fall in love. But all good things must end when Meadow returns to Atlanta and Jonathan heads back to law school in New York. They promise to keep in touch. Jonathan believes God has brought them together. Meadow's not so sure, but they promise to meet at Christmas on the rooftop of Cardiff Castle in Wales in two years if they're not already spoken for. Will Jonathan keep his promise? Fans of Serendipity and Sleepless in Seattle will enjoy this novella.
What inspired you to write The Promise Keeper?
Watching the movie Serendipity, which is a fancy word for destiny or coincidence. It's a heartwarming story, but we believers have something better—the providence of God—His sovereignty. I started thinking—what if the basic story of two people's destiny was not a matter of chance but of God's plan?
What genre do you focus on and why?
Mostly, I write romance with something else—suspense, contemporary, historical, and my next book is a time-travel romance.
Why do you write?
It's my way of fulfilling the great commission. People may not read the Bible, but they may read a novel and meet God for the first time.
What is your work schedule like when you're writing a book?
Once I sign a contract, I write 500 words a day six days a week. (I'm an editor so I don't have the time for more than that.)
What's the best part of your author's life?
Traveling to the settings in my books. My next book, The Roosevelt Key, coming out in February takes place in LA. I'll be spending a lot of time in the famous Forest Lawn Cemetery and staying at the Roosevelt Hotel in Hollywood.
What's one unusual fact about you?
I like to work my way through a recipe book—making recipes in order, even if I know I won't like them. I do the same thing with menus at restaurants.
How have you changed or grown as a writer?
I've grown a tougher skin. Belonging to critique groups and attending meetings with agents at conferences have helped me learn to make the most of criticism.
Do you have other books? We'd love to know.
I've written about sixteen books. They're available on Amazon.
Website: www.stewartwriting.com
Link to book: https://amzn.to/2Y07QP0
Social media links:
https://www.amazon.com/author/sherristewart/ 
https://www.facebook.com/sherristewartauthor/
https://www.goodreads.com/author/show/758893.Sherri_Stewart
https://www.instagram.com/stewart_sherri/
https://www.bookbub.com/profile/sherri-stewart
Follow me on social media!