Be-Atitudes of a Writer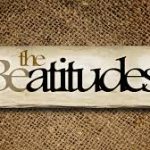 As I began to write my second novel, The Fabric of Faith, I heard a sermon on the beatitudes. I'd heard a dozen or more sermons on that topic before, but as I pondered what the preacher talked about, I couldn't help but applying it to the writing life.
Matthew 5 says that Jesus taught the multitudes, saying, "Blessed are the poor in spirit: for theirs is the kingdom of heaven. Blessed are they that mourn: for they shall be comforted. Blessed are the meek: for they shall inherit the earth. Blessed are they, which do hunger and thirst after righteousness: for they shall be filled. Blessed are the merciful: for they shall obtain mercy. Blessed are the pure in heart: for they shall see God. Blessed are the peacemakers: for they shall be called the children of God. Blessed are they, which are persecuted for righteousness' sake: for theirs is the kingdom of heaven. Blessed are you, when men shall revile you, and persecute you, and shall say all manner of evil against you falsely, for my sake. Rejoice, and be exceeding glad: for great is your reward in heaven: for so persecuted they the prophets which were before you."
How can we apply the concept of "be-attitudes" to our writing life, our creative life, or just life in general in a new and fresh way? Although not in order of Matthew's beatitudes, here's what I came up with:
Be patient. Writing is perfected over time.
Be content. Enjoy the journey and stop wanting more.
Be prepared. Learn all you can about writing.
Be proactive. Schedule writing time and remember, you reap what you sow.
Be clear. Communicate well.
Be tenacious. It doesn't matter how you feel; if God's called you to write, never give up.
Be doers. Write! Write! Write!
Be connected. Find other writers and do life with them.
Be dead. Die to your personal plans and live for God's plans for your writing life.
But Jesus wasn't finished. He went on to say, "You are the salt of the earth: but if the salt have lost his savor, wherewith shall it be salted? it is thenceforth good for nothing, but to be cast out, and to be trodden under foot of men."
How can we "salt" our writing to make our readers hungry and thirsty for Him?
And then Jesus said, "Ye are the light of the world. A city that is set on an hill cannot be hid. Neither do men light a candle, and put it under a bushel, but on a candlestick; and it giveth light unto all that are in the house. Let your light so shine before men, that they may see your good works, and glorify your Father which is in heaven."
Writers, creatives, and friends, let your light shine!
What other be-attitudes would you add to this list? I'd love to know!
Follow me on social media!