Meet author Beth Vogt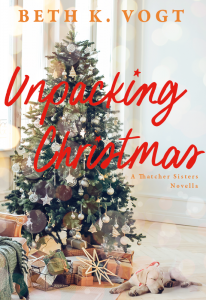 Beth K. Vogt believes God's best often waits behind the doors marked "Never." Her newest release is Unpacking Christmas: A Thatcher Sisters Novella. She's authored ten contemporary romance novels and novellas, before writing her women's fiction series with Tyndale House Publishers including: Things I Never Told You; Moments We Forget;and The Best We've Been. Beth is a Christy Award winner, an ACFW Carol Award winner, and a RITA® finalist.
Tell us about your newest book.
I've always wanted to write a Christmas novella because I love reading them. Since releasing The Best We've Been, the third book in the Thatcher Sisters Series, readers were asking about Payton, Jillian, and Johanna, so I thought it would be fun to catch up with them during the holidays.
How would you describe this book to someone in a 30-second blurb?
Like everyone else, the Thatcher sisters have plans for Christmas. But things don't go the way they expect – do they ever? This Christmas, Johanna, Jillian, and Payton will realize the true magic of Christmas isn't found in gifts or decorations or treasured traditions, but in the love of family.
What genre do you focus on?
I write women's fiction because I love to explore the depths of relationships between best friends, sisters, and mothers and daughters, as well as the heart issues that women care about.
Why do you write?
I believe that life is complicated. That relationships are messy. But I also believe God steps into the middle of our complicated, messy lives and says, "I have more for you than this."
Who is your main character, and how did you choose that name?
The main character in Unpacking Christmas is Heather Thatcher. She's the mom of Payton, Jillian, and Johanna – the Thatcher Sisters. I chose her name because my eighth-grade teacher's name was Heather. She was one of the first teachers I looked up to – who influenced me as a young writer – and I always thought her name was beautiful. I used her last name for another character in the novella.
What is your work schedule like when you're writing a book?
I always say I write in between the interruptions. I would love to keep a regular schedule, but I juggle writing and real life. Sometimes I juggle things well, and sometimes it's not so pretty.
What is the hardest part of being an author?
The hardest part is merging the dream of writing with the reality of writing. If we're not careful, the realities can squash the dream. Reality can create all sorts of "logical" reasons to quit. Writing is hard work. But we have to remember the "why" and we have to banish the words "I quit" from our vocabulary.
What's the best part of your author's life?
Oh, there are so many wonderful parts! Brainstorming an idea. Finishing a first draft. Getting feedback. Holding your book in your hands for the first time. Meeting a reader. Meeting an author you admire …
What's one unusual fact about you?
I always tuck a true-to-my life fact into every book I write. Close friends and family always figure it out. Oh! And I never read my books once they're released.
How have you changed or grown as a writer?
I've learned failure is part of success – and I'm okay with that.
What is your favorite pastime?
Being with my family – doing anything. Cooking. Playing boardgames. Watching old movies.
Do you have other books? We'd love to know.
I sure do! You can find them on my website at bethvogt.com.
And if you'd like a free novella, you can sign up for my Words of Encouragement newsletter on my website. https://bethvogt.com/newsletter-sign-up/
What are you working on now?
I'm working on a new women's fiction story that's a bit true-to-life. I named the main character after a good friend (and fellow author). And I'm having so much fun with this new story!
Website: https://bethvogt.com/
Link to book: https://bethvogt.com/beths-books/unpacking-christmas/
Social media links:
Instagram: https://www.instagram.com/bethkvogt/
Facebook: https://www.facebook.com/AuthorBethKVogt/
Twitter: https://twitter.com/bethvogt
Pinterest: https://www.pinterest.com/beth_vogt/
Goodreads: https://www.goodreads.com/author/show/5042181.Beth_K_Vogt
Amazon Author Page:https://www.amazon.com/Beth-K.-Vogt/e/B001JSBFIS/ref=sr_ntt_srch_lnk_2?qid=1531329067&sr=1-2
BookBub:https://www.bookbub.com/profile/beth-k-vogt
Dream Readers: https://www.facebook.com/groups/193916211212564/
Follow me on social media!