The Adventure of Remarriage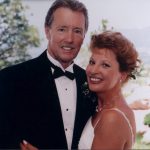 Remarriage is truly an adventure! As on any journey, there are often beautiful moments and wonderful surprises. This has certainly been true for Dale and me. There are times of love and laughter, joy and adventure. But there are also dangers seen and unseen—road bumps, potholes, detours, hazards, and difficulties along the way.
When you're on a journey, you'll inevitably learn new things, and hopefully you'll always continue to grow. You'll enjoy new experiences, meet interesting people, and encounter new challenges. And when you are blending a family, you'll experience all of these things—sometimes in just one day!
Dale and I love to experience new adventures. Whether we're hiking in the Rocky Mountains, scrambling up the famous Dunn's River waterfall in Jamaica—just as a hurricane hit—or holding a wild baby lion cub in South Africa, we try to enjoy everything our journey has to offer.
That goes for our marriage as well. We enjoy the good times, make great memories, and capture the moments of fun and adventure. But when times get tough, when storms come, or when roadblocks hinder our path, we try to realize that the road bumps and potholes are just part of making an adventure unique. So we work together to overcome each obstacle that attempts to impede our journey.
What challenges have you found to be an adventure? Leave us a comment; we'd love to know.
Adapted from The ReMarriage Adventure: Preparing for a Lifetime of Love & Happiness, by Susan and Dale Mathis. Copyright © 2012, all rights reserved.
Follow me on social media!