Meet historical biographer Craig von Busek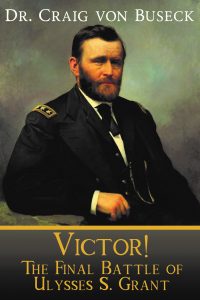 From college campuses and churches to boardrooms, and from radio to television and webcasts, Dr. Craig von Buseck has been in the public eye for more than 35 years. As a sought-after keynote and conference speaker, Craig has spoken across the US and overseas. Craig is an award-winning, multi-published author and serves as the Managing Editor for Inspiration.org. He holds a Doctor of Ministry and an MA in Journalism from Regent University. Learn more at vonbuseck.com.
Tell us about your newest book:
In the greatest victory of his life, Ulysses S. Grant overcame bankruptcy and fought cancer to save his family from ruin. With Mark Twain as his publisher, Grant wrote an American classic – his Personal Memoirs – confronting Jim Crow racism while securing the future of his wife after his death.
In writing his Personal Memoirs, Grant also fought the "Lost Cause" view that the war was not about slavery, but state's rights. Like Lincoln, Grant viewed the Civil War as a divine punishment for the sin of slavery. "There had to be an end to slavery," Grant explained. "…we were fighting an enemy with whom we could not make a peace. We had to destroy him."
U.S. Grant was underestimated throughout his remarkable life. Then his reputation and legacy were maligned by pro-Confederate 'Lost Cause' writers. In the last 30 years, historians have begun a reexamination of Grant's contribution to American culture and the cause of freedom. Through the release of Victor!, von Buseck hopes to be part of restoring Grant to his rightful place in American history.
What inspired you to write Victor! The Final Battle of Ulysses S. Grant?
In the late 1990s, I purchased my own VHS set of 'The Civil War' by Ken Burns. It was in this excellent documentary that I first heard the amazing and inspiring story of the final two years in the life of Ulysses. S. Grant. I decided to write the book, but then in 2012 I learned that someone else had written the story. So I went to work on my book I Am Cyrus: Harry S. Truman and the Rebirth of Israel. After that was released in 2018, I still couldn't shake the Grant story. In order to make it different from the previous book, I decided to write flashback chapters to some of the key Civil War battles as Grant is writing about them in his Personal Memoirs. I have been told by several who have read the book, including a retired Colonel from the US Army, that these flashback chapters make the book come alive with interest, connecting the A and B stories in a dramatic way.
What genre do you focus on and why?
My primary genre is history and biography. When I was young, during the 1970s, America celebrated its bicentennial. While being moved by this nationwide celebration, I was also captivated by the Broadway musical, 1776, which had been made into a movie. That birthed in me a lifetime interest in history. I was attracted to historical writing as I discovered one amazing story after another from the past. The power in telling these true stories is that there is no way to ignore or downplay dramatic events in history as merely hyperbole or wishful thinking. Many times in history we see where God brought someone through a trial in life or delivered a particular group or nation in the midst of trial or war, and there was no other answer as to how that happened other than that God intervened. There are times in life where it seems we are between a rock and a hard place and we see no other way out of our dire circumstances other than the intervention of God. By telling the actual stories of how God did this for key historical figures, I believe I am both bolstering the faith of believers, while also challenging non-believers to consider opening their lives to God's love.
Sometimes, the stories are not so dramatic. I also am drawn to moving stories that show godly character, love, or just amazing events that make you wonder.
Why do you write?
During keynote speeches at writers conferences, I sometimes say, "If you ever thought, 'prison might not be so bad, because it would give me time to write,' then you should call yourself a writer." The great Olympic sprinter, Eric Liddell said, "When I run, I feel God's pleasure." I feel the same way about writing, only I would add that I also feel this pleasure when I'm writing.
In addition, I write for these reasons: First, writing allows you to go in-depth into a subject in a way that nearly no other medium does. Second, writing can touch someone's heart and then, hopefully, impart their thinking toward a relationship with God. Third, your writing can possibly outlive you, being passed down to the generations to come. Finally, I just love to create stories, to plot books and scripts, and then to write them. I love the creative process. You cannot have a TV show, a play, or a movie without writers. So writers rule!
What is your work schedule like when you're writing a book?
I have found that I do my best writing early in the morning. So I will get up and write for a couple of hours and then go into work. If I'm under a deadline, I will then do one or two hours of writing or editing after work. Then I write for most of the day on Saturday, unless there is some pressing needs at the house. I try to take Sunday off as often as possible.
What is the hardest part of being an author?
At this point in my life, being an author is like working two full-time jobs. If it was just the writing that I was required to do, that would not be so bad, because I love to write. But it's also the editing, the marketing, the web updates, and the business aspects that make this an entrepreneurial business. So it can be exhausting and one must pace one's self or you can burn out.
What's the best part of your author's life?
I love the process of discovering a great story and then determining whether it can be written as a book, a play, a TV script, or a screenplay. I love to plot a true story to adapt it to a biography or to narrative non-fiction. It's always fun to discover the true-life plot points and match them to the needs of the genre.
I believe I was created to write in the same way my father was created to be a portrait painter. On more than one occasion, he said to me, "Craig, if they took away my oils, I'd use acrylics. If they took away my acrylics, I would use watercolors. If they took those away, I would use crayons. If they took away my crayons, I would find a stick and doodle in the dirt. You see, I'm not an artist because that's what I do for a living – I'm an artist because that's what God created me to be." I feel exactly the same way about being created by God to write.
What's one thing your readers should know about you?
For me, it is important that the final product of my writing be as true to the historical facts as possible. In my book I Am Cyrus: Harry S. Truman and the Rebirth of Israel, my goal was to write an interesting and entertaining biography that would keep the readers turning the pages – while at the same time crafting a defense of the rebirth of the nation of Israel that could be successfully argued before the Supreme Court. With this goal in mind, it took 5 years to do the research and writing of the book (while working a full-time job), and I included more than 1,200 end notes to support the text. My new book, Victor! The Final Battle of Ulysses S. Grant, took 2 ½ years for the research and writing, with more than 1,100 end notes.  
Do you have other books? We'd love to know.
The folks at Iron Stream Media / LPC books, who published both I Am Cyrus and Victor! asked that I write a companion teaching book on the leadership of U.S. Grant. That book, Forward! The Leadership Principles of Ulysses S. Grant is also being released this spring. While Victor! took 2 and ½ years to research and write, Forward! took 2 ½ months! So it's been a busy season.
Some of my other books include Nobody Knows: The Harry T. Burleigh Story, which is a narrative biography of one of the first great African-American composers; Praying the News, which I co-authored with Wendy Griffith, co-host of The 700 Club; Seven Keys to Hearing God's Voice; and Netcasters: Using the Internet to Make Fishers of Men.
What are you working on now?
My son, Aaron, is a graduate of the Regent University Film School, so he and I are adapting the Victor! book into a screenplay. I am also putting the final touches of an adaptation of my book Nobody Knows as a Broadway-style musical. I'm working on a children's book called Lion's Field. Wendy Griffith and I are beginning the process of writing a follow-up book on the power of prayer in today's turbulent times. I also plan to start a series of shorter inspirational books from history – the first being Stories of Courage and Honor from The Civil War.
I have also recently launched a weekly online program called Stories & Myths to examine some of the great stories of history and to debunk some of the biggest myths. You can watch this every Thursday at 7 p.m. (eastern U.S. time) on my Facebook or YouTube channels.
Website: vonbuseck.com
Link to book: GrantVictorBook.com
Social media links:
youtube.com/channel/UC4XngihXgoXse2Jrr4N5LpQ
instagram.com/buseckcraigvon/
amazon.com/Craig-Von-Buseck/e/B001K8JB1U/ref=dp_byline_cont_pop_book_8
bookbub.com/profile/craig-von-buseck
linkedin.com/in/craigvonbuseck/
mewe.com/i/craigvon_buseck
Follow me on social media!