Meet author Tabitha Bouldin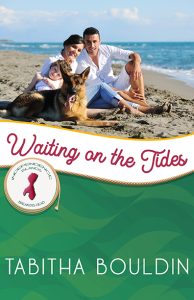 Tabitha Bouldin has a bachelor's degree in creative writing/English from Southern New Hampshire University. She is a member of American Christian Fiction Writers (ACFW) and has been writing since 2015. When she's not homeschooling her kids, you'll find her curled up with a book.
Tell us about your newest book.
Waiting on the Tides is a contemporary Christian romance set at the beach. It brings Abby and Christian together, two characters that readers will recognize from throughout the series. Christian is a single father who will do anything to make certain that is daughter never feels abandoned after his wife left them. Abby wants nothing more than to prove that she's more than the naïve college kid everyone assumes when they first meet her. When she takes a job at the school where Christian's daughter attends, sparks fly between this pair of opposites.
What genre do you focus on?
I go back and forth between contemporary Christian romance and Christian fantasy. I love the styles that each genre provides and the stories that I'm able to tell. Underneath any type of genre I write, you'll find romance at the core. I love reading and writing a novel that puts characters together in situations where they learn to push past what they think they know and want and see the plan that God has in store for them.
Why do you write?
I write because I can't stop. Even if I wanted to, the words keep coming. If I don't write them down in some form, either in a notebook or by typing on the computer, then I'll stay awake all hours of the night imagining the story in my head. Characters refuse to be quiet until they get their moment in the spotlight. I was not the person who always knew they wanted to write. It came to me about six years ago and I've been chasing down stories ever since.
What is your work schedule like when you're writing a book?
I'm almost always writing a book. That means I sit down every morning around 8 am and work until noon. Most days, I'm still at the keyboard, typing away, until 3 pm. I'm easily distracted and will procrastinate at a moment's notice, so those extra hours can be necessary to ensure I get the work done on time. After I finish my word count for the day, it's time to check on the kids schooling and then family time.
What is the hardest part of being an author?
The hardest part for me is letting a story go. There are times when the story isn't ready, or it's not the right time to tell that story. I want to push through and force the words to come to me. But I've learned that it's always better to wait. The story stays in my head but not focusing on it allows thoughts and ideas to percolate until I reach the point that I know what needs to happen.
What's the best part of your author's life?
The best part is seeing the story come alive. And holding the paperback in my hands. There's nothing better than flipping through the pages and having that sense of peace that is God telling me I've done my part. I followed His calling and put pen to paper and now it's time to start all over again. I love the thrill of discovery that comes from each story, and I get to experience that again and again.
What's one unusual fact about you?
I've been a farmgirl all my life. I've owned horses, cows, pigs, cats, dogs, and chickens. Often all at the same time. You'll see that come out in my stories from time to time. In fact, I recently adopted a blind quarter horse who was used as a therapy horse for autistic children. He's now living the high life in the pasture, occasionally being ridden by me or one of my kids or a niece or nephew. I've never been able to look at an animal and think they have nothing left, that I shouldn't do my absolute best to make what remains of their life peaceful as a thank you for all the love they have given.
What is your favorite pastime?
Reading. Hands down. I would read all the time if I could. I love words. All the words. I'm a voracious reader who believes there's no such thing as too many books…just ask my bookshelves after I tried to find a place to put my latest book order.
Do you have other books? We'd love to know.
I have several books out now. My very first series is a Christian speculative fiction based on a woman who can see the future and tries to change it to save a man's life. Then there's the Independence Island series which is wrapping up soon with this last book, Waiting on the Tides. I also have a steampunk Alice in Wonderland retelling titled Madness in Wonderland.
What are you working on now?
Right this moment, I'm working on another Christian fairy tale retelling that is outside my Madness in Wonderland series while also plotting another contemporary Christian romance for the Suamalie Island series. There are so many words out there ready to be explored!
Website: https://tabithabouldin.com
Link to book: https://www.amazon.com/gp/product/B09R3LGZGG
Social media links:
https://www.facebook.com/tabithabouldinauthor
https://www.instagram.com/tabithabouldin
https://www.twitter.com/tabithabouldin
https://www.tiktok.com/@steampunk_tales_tabitha
https://www.bookbub.com/profile/tabitha-bouldin
https://www.goodreads.com/author/show/17732105.Tabitha_Bouldin
https://www.amazon.com/author/tabithabouldin
https://mailchi.mp/336c3621e5e7/tabithabouldinauthor
Follow me on social media!