Meet author Sherry Kyle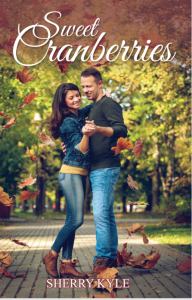 Sherry Kyle is the author of contemporary women's fiction and historical romance novels, as well as her recent small-town romance novella, Forever Yours This Christmas. Sherry also writes award-winning middle grade books, including The Christian Girl's Guide to Style and Love, Lexi: Letters to God, as well as ECPA finalist, True Heart Girls Devotional: God's Promises for Me. When Sherry isn't writing, she enjoys walks along the ocean and decorating her beach home. She lives in California with her husband and four children.
Tell us about your newest book.
Amanda Richards moves to the island of Nantucket to take over the Blue Crab Café that her aunt and uncle have successfully run for forty years. Hoping to prove her worth to a somewhat skeptical community, she volunteers to organize the annual Cranberry Festival at the Milestone Cranberry Bog. When a handsome electrician and other residents of the island step up to help with the festival, she must discern whether they really have her best interests at heart.
Tyler Adams, owner of Adams Electric, is having a hard time accepting the news that the Blue Crab Café has been sold and the former owner is moving away—a man who's been a father figure to Tyler since his dad's death two years ago. When Amanda, the new owner, steps up to head up the Cranberry Festival planning committee, he volunteers to help her and quickly falls for the newest member of the community. The only thing he hadn't planned on was his ex-fianceé returning to town with her sights set on winning him back.
What inspired you to write Sweet Cranberries?
I love small town romance and helping those who feel invisible, and this story combines both of those elements. I also wanted to write a story where the hero seeks a father figure that only God, his Heavenly Father, can fulfill.
How would you describe this book to someone in a 30-second blurb?
A heartwarming story about accepting others, celebrating community, and the rush of falling in love in autumn.
What genre do you focus on and why?
I love to write in multiple genres as you can see from my bio. Lately I've been writing contemporary romance because I'm a romantic at heart and love a sweet and clean story. I also enjoy writing devotionals for kids 8-12 year olds. I go back and forth between genres to keep things interesting.
Why do you write?
I write because I love to create. I've always been a creative person, whether it was cartoon drawings or making craft projects for school as a child, to chalk-painting furniture and interior design as an adult. Writing fills that same creative desire for me. What can I say? God wired me that way.
Who is your main character, and how did you choose that name?
My main character is Amanda Richards. I choose her name by figuring out how old my character is and then looking up the top one hundred baby names on Google during that year. The last name comes to me by what I think sounds good with the first name.
What is your work schedule like when you're writing a book?
It usually takes me six-to-nine months to write a novella/novel. My goal is to write 1000 words every day, but sometimes life takes over. I am a busy wife and mom, am a Bible study leader at my church, have great friends that I walk with to stay fit, and take care of household chores. Writing, however, is my passion, so I make time between 10 a.m. and 3 p.m. most days to get my word count in.
What is the hardest part of being an author?
The hardest part for me about being an author is the isolation it takes to write. I am an extrovert by nature, so at some part of the day I need to be with people, whether it's running to the grocery store, meeting a friend for coffee, or taking a walk with a neighbor.
What's the best part of your author's life?
The best part of my author's life is when a new book arrives in the mail with my name on it. It always blows me away that God has given me the gift of another story. To him be the glory, honor, and praise.
What's one unusual fact about you?
I was born with red hair! My mom was so happy. But typical of newborns, the color changed. I was blonde by the time I was one years old.
How have you changed or grown as a writer?
Over the years my writing has changed from a fun hobby to a career. After fourteen books, I know what it takes to start and finish a project (starting is easy, finishing is the hard part), how much time I need to dedicate to my writing to produce a publishable book, and how need to keep an open mind when it comes to edits. I also know that it takes a team. I pray before I start writing for God to help me put words on the page. I can't do it by myself. That way I make sure all the glory goes to him!
What is your favorite pastime?
My favorite pastime is spending the day with my husband in the small coastal town of Carmel-by-the-Sea, California. We roam the quaint shops and art galleries, eat lunch at The Forge restaurant, stop at the Carmel Bakery for an almond biscotti and cup of coffee, and take a leisurely stroll down to the beach. Whenever my husband and I feel the need to get away from the hustle and bustle of life, we take a day and go to Carmel-by-the-Sea. I love this place so much that I wrote a historical romance titled Watercolor Dreams set in this town.
Do you have other books? We'd love to know.
Yes, I have one other sweet and clean novella titled Forever Yours This Christmas, as well as two contemporary women's fiction titles and two historical romance titles. I also have eight middle grade devotionals for kids—two work-for-hire projects, and six books for tween girls.
What are you working on now?
I'm working on another sweet and clean novella. I'm writing all four seasons, so this romance will be set during the spring. The summer novella is already written, so that book may release in the summer of 2022 if everything goes to plan. J
Website: www.sherrykyle.com
Link to book: https://amzn.to/3zV5mCo
Social media links: Facebook, Instagram, Twitter, and Pinterest.
Follow me on social media!