Meet author Kate Breslin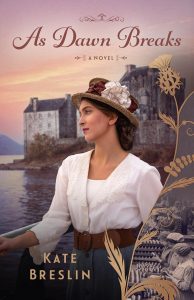 Author Kate Breslin lives in the beautiful Pacific Northwest where she enjoys spending time with her husband and family. She also loves reading, writing, hiking, and traveling to new places for the next story idea. Kate's WWII debut novel, For Such a Time, received ACFW's 2015 Carol Award, and her fifth novel, As Dawn Breaks, is her newest. Please visit her at www.katebreslin.com
Tell us about your newest book.
What inspired you to write As Dawn Breaks? While researching for my previous novels, I came across stories of how the British women had to step in and fill the role of working jobs previously held by men now fighting overseas in WWI. In particular, that special breed of women working in the munitions industry, making shells, packing them with TNT, and making propellant for ammunition. It was highly dangerous work, but most of these ladies were patriots, and if not for them, Britain might have lost the war. I also discovered the competitive, lucrative, and often shady business of arms dealing was as relevant back then as it is now, and my story came together from there.
What genre do you focus on?
I love history, especially when I discover little-known nuggets to write about. I also have a passion for anything British, so my stories or characters hail from that country. Currently I write WWI-era novels because there was so much innovation emerging at that time and plenty to write about, so I hope to continue in or around that era for future books!
Why do you write?
I simply love story. I read voraciously growing up and I also loved being able to express myself through the written word. Poetry, journaling, short stories, and much, much later, I began writing novels, because I'd read all of the books by my favorite authors and wanted to create my own. Easier said than done. It took me many years to publish my first book, in between working full time, a family, and most importantly to realize exactly what God wanted me to write. When I finally wrote my very first inspirational novel, For Such a Time, a Biblical Esther retelling set during WWII, I was blessed to receive my first book contract and since then I've never looked back.
Who is your main character, and how did you choose that name?
Rosalind (Rose) Graham is my story heroine, and her name is the same as the main character in the play As You Like It. While Shakespeare and I wrote completely different tales, there are some similarities between his Rosalind and mine, but that's a spoiler and you'll have to read the story to find out.
What is your work schedule like when you're writing a book?
Once I spend a couple of months doing research for the next story, I create an outline and then sit down and begin writing 4-5 days a week, usually 5-7 hours a day, mostly in the afternoons. When I'm nearing deadline however, I'll sometimes work twice that many hours in a day, seven days a week, to finish the manuscript and turn it in on time.
What is the hardest part of being an author?
I think the number one challenge for me is finding time for everything. After my first novel released, I quickly learned there was more to publishing than merely writing the story. Deadlines, revisions, and then rounds of edits before a book is pristine and ready for readers, and afterward there's marketing, social media, book events, and the list goes on. While I love it all, it's hard sometimes to juggle my writing life with my personal life, and I'm always striving to find more ways to provide a good balance between the two.
What's the best part of your author's life?
My readers, hands down. They're awesome. They are wonderfully encouraging and kind, and through the years have always been supportive of me and my novels. Sometimes, when I'm feeling low and exhausted after working a crazy shift at the computer all night, or having a "bad hair day" with my writing and the words aren't flowing and I ask God if I'll ever finish this manuscript—it's then I receive an email from a reader about how much they enjoyed one of my stories, or someone will send me a kind note on social media. Suddenly my spirits are lifted and I'm infused with new energy. Those are "God moments" to me, because oftentimes that's how He answers my prayer.
What's one unusual fact about you?
I had a terrible time learning to read. I have mild dyslexia and was also very shy, so when my first grade teacher instructed each of us to stand in class and read aloud from a beginner book, I froze every time, the letters in the words making no sense to me at all. I continued to struggle for another year, until we moved to different state and school and I was introduced to the Phonics teaching method of sounding out the letters. It absolutely changed my world. At last I could begin to read and understand the words, and the rest as they say, is history.
How have you changed or grown as a writer?
Well, I certainly hope that my writing has improved and grown with each new book, but even more importantly my relationship with God has become stronger. Creating a plausible, readable, likeable story over the course of 100K words has been one of the biggest challenges of my life, and it reminds me daily that I can accomplish nothing on my own without the Lord by my side to inspire and guide me.
What is your favorite pastime?
Aside from reading and taking my daily walks, I love to putter in the garden, especially my rose garden. Give me an audiobook and a weed puller and I can work all day.
Do you have other books? We'd love to know.
Yes thank you, Susan. Aside from my newest release, As Dawn Breaks, I have four other novels published with Bethany House, which can be found on my website with reading excerpts and buy links. As I mentioned above, my first novel is a WWII story, and the others are connecting stand-alone novels set during WWI.
What are you working on now?
Currently I'm finishing the manuscript for my sixth novel, which is set in Britain during the summer of 1918 and features as the main character, Marcus Weatherford, who has played a part in each of my five other connecting WWI stand-alone novels. The book is scheduled for release in December 2022.
Website: https://www.katebreslin.com
Link to book: https://katebreslin.com/as-dawn-breaks/
Social media links:
Facebook: https://www.facebook.com/KateBreslinAuthor/
Twitter: https://twitter.com/Kate_Breslin
Pinterest: https://www.pinterest.com/katelbreslin/
Instagram: https://www.instagram.com/authorkatebreslin
Bookbub: https://www.bookbub.com/authors/kate-breslin
Goodreads: https://www.goodreads.com/author/show/7115378.Kate_Breslin
Linked In:  https://www.linkedin.com/in/kate-breslin-87531b61
Follow me on social media!