The Thousand Islands Gilded Age comes to life!
Did you know the U.S. Gilded Age and the Thousand Islands Gilded Age is historically from 1870 to the early 1900s? It was a time of great economic growth, a time when European immigrants flooded into the U.S., and a time of railroads expanding America at an alarming rate.
Mark Twain first coined the term in his 1873 novel The Gilded Age: A Tale of Today. In it he used satire to show this time period as one of masking social problems with thin gold gilding.
He had a point. It was a time of rich and poor, servant and served, beauty and trouble. In my Thousand Islands Gilded Age series, I show what those days were like through the history and setting of the beautiful Thousand Islands in Upstate New York. My stories are a kind of Downton-Abbey-meets-the-Thousand-Islands, but from the perspective of the servant girl.
In 1872, George M. Pullman invited President Grant to visit his small island during the reelection campaign. In so doing—and thanks to hungry journalists—he launched a season of the rich and famous buying lots of the Thousand Islands and building castles, mansions, and magnificent summer homes. Those islands, those homes have delightful, intriguing, and often poignant stories to tell. And I aim to tell a lot of those stories!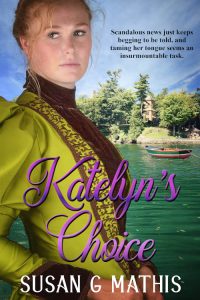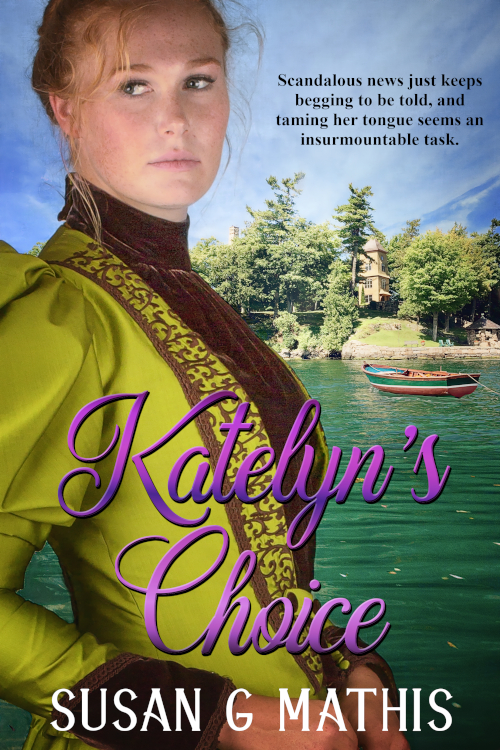 In Katelyn's Choice, The Gilded Age comes to life in this first installment of the Thousand Islands Series!
Katelyn Kavanagh's mother dreamed her daughter would one day escape the oppressive environment of their Upstate New York farm for service in the enchanting Thousand Islands, home to Gilded Age millionaires. But when her wish comes true, Katelyn finds herself in the service of none other than the famous George Pullman, and the transition proves anything but easy.
Thomas O'Neill, brother of her best friend, is all grown up and also working on Pullman Island. Despite Thomas' efforts to help the irresistible Katelyn adjust to the intricacies of her new world, she just can't seem to tame her gossiping tongue—even when the information she's privy to could endanger her job, the 1872 re-election of Pullman guest President Ulysses S. Grant, and the love of the man of her dreams.
Here's an excerpt from Katelyn's Choice, the first in the Thousand Island Gilded Age series. It releases on March 15th! I hope it'll whet your imagination and desire to read the entire story.
Even at breakfast, Katelyn marveled that the swirl of fumes didn't choke President Grant as he continued his cigar smoking. After she poured his coffee—without incident—she responded to his wink with a relieved smile and stepped back in line.
Mr. Pullman took a generous slurp of coffee and set the cup down. "How did you fare the night, sir?"
The president stopped cutting his omelet and gazed wistfully out the window and then at Mr. Pullman. "My repose was most assuredly that of genuine enjoyment, a wonderful treat during this harried campaign. This blue bosom of the mighty St. Lawrence held me in its spell all the night long, enchanting me with a dream of a quiet piece of heaven and that of calmer affairs than I have had in a long while. Pullman, old chap, you respite on one of the myriads of gems you call an island. I call it a bit of paradise."
Mrs. Pullman sent a pleased glance toward her husband, who gave her a slight nod. "I am delighted you rested well, sir, and you are most welcome here anytime." She took one of the dainty muffins that Katelyn offered from a silver platter.
The first lady turned to Mrs. Pullman. "It is a delightful place. I should think every island here will be quickly scooped up by those who can afford such a summer's rest."
President Grant agreed and smiled so lovingly at his wife that Katelyn wondered if he would get up and kiss her at the breakfast table. "Did you know I spent four years stationed at the Madison Barracks in Sackets Harbor? It was beautiful, to be sure, but not like these islands." He went on to talk about the War of 1812 battlegrounds and the quaint little town on the shore of Lake Ontario, not fifty miles from there. "It got mighty cold in the winter, and the snow? Never saw the like of it. One winter we had near ten feet of it, and a nasty blizzard nearly froze us all to death."
Mr. Pullman laughed. "Yes, that's why the Thousand Islands is only a summer spot."
Follow me on social media!