Overwhelmed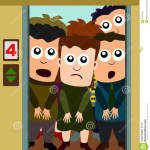 Nine of us stood silently in the elevator, dazed and barely breathing, heading to yet another conference luncheon. After two days of meetings, appointments, workshops, and talk, talk, talk, we fellow writers were spent. We were tired. Overwhelmed.
So I broke the ice. "Anyone else as brain dead as I feel?"
Everyone sighed, laughed, and smiled. It broke the atmosphere of numbness and gave us a moment of connection. We weren't alone. We all felt that way, and somehow that was strangely comforting.
Conferences are incredible, wonderful, and amazing, but they are also exhausting. It was my first American Christian Fiction Writers (ACFW) conference, and I was a newbie novelist. Even though I'd attended dozens of writing conferences before—as faculty—this was a new experience. I was on the other side of the table—literally—and it was disorienting.
I knew a few faces, thank God, but there were over 500 editors and authors, both well known and not-yet-published. There was much to learn, many to meet, much to do. And after several sleepless nights before the conference and having my iPad crashing just the night before, I was already overwhelmed. But I squared my shoulders, put on a smile, and jumped into the fray, wondering what the next few days would hold.
"What was the best part of the conference?" my husband asked.
"People," I answered.
Dale looked at me quizzically. I could see it in his eyes. You spent how much money and how many days and your answer is…people?
Yes, people. The ACFW people poured out love, kindness, encouragement, acceptance, affirmation, wisdom, and more. Whether I was attending a Books & Such meet and greet, taking a trip in the elevator with Laurraine Snelling, sitting in a workshop led by Susan May Warren or Jeff Gerke, discussing my book with Charlene Patterson or another editor, or chatting over a meal with fellow authors, almost everyone engaged with one another—and me—in a 1 Corinthians 13 way.
It was life-giving, and it knit my heart to so many. It's the way it should be, but to be honest, it was the first time I had been overwhelmed by such extravagant love at a conference. I'm sure that I am not the only one who felt that way, and it is good.
So kudos to all at ACFW who created a culture of love and made a way for all of us to enter in. May each of us do the same, wherever we go.
Where have you been overwhelmed by a culture of love? I'd love to know!
Follow me on social media!