My Hallmark Mom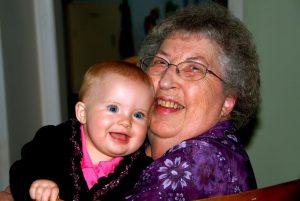 Last night my mom went to heaven, just three weeks short of her 95th birthday. Here's my tribute to her.
You know those sappy Hallmark commercials you hate to love? Those 30 or 60 or 90 seconds that kept you from popping popcorn on Sunday nights because you didn't want to miss them? Those moments that tell a teeny tiny story of someone "who cares enough to give the very best" expression of their love and touch a heart in a special way? If you're that rare person who hasn't, Google it on YouTube, but be sure to have a Kleenex box handy.
Those commercials always remind me of Mom.
She should have been a major investor in Hallmark cards, and in a way, she was. Mom was an avid, expert, and wonderful card giver. For as long as I can remember, she spent hours upon hours searching for just the right birthday card or the perfect anniversary card. She'd search through get-well cards to match the personality of someone who needed a little love, a little encouragement, a little kindness. Then there were the cards for Valentine's Day, St. Patrick's Day, Easter, Thanksgiving Day, and even the Veteran's Day for my retired Lt. Col. husband.
When someone died, well, she'd find just the right card for that person, and then she'd personally deliver it. For many years, our phone calls were often about her attending a wake or funeral, sometimes going to several in a week. I was beginning to wonder if she had become one of those professional mourners, but no, she was simply a caring, loving friend to each and every one who was grieving. She seemed compelled to show her love and support in a time of need.
When I got married 14 years ago, I found my box of cards that Mom had sent me through the years. I had moved 26 times during my adult life, and there were very few things I held on to throughout all those years. But I kept most of the hundreds of cards my mother sent me. I spent some time reading them again and realized that Mom was not only a thoughtful card-giver, she was also an eloquent writer. Her notes were full of personal, loving, caring comments written in prose that was meaningful and memorable. Words that often brought tears to my eyes. Some were sweet. Some were funny. All of them were perfect for that season of my life. The cards became landmarks of my years, history of my days, and touch points of love. As I pursued them before closing the box, right then and there I dubbed her my Hallmark Mom and have affectionately called her that ever since.
I also remember that at Christmas she would set up the card table in her bedroom and spend hours and hours—and hours!—reading and rereading and choosing and signing and addressing Christmas cards. Sometimes I felt a tiny bit jealous of all the time she'd spend at that table, writing a note in each and personally addressing them during that busy season. But I came to realize that for her, they weren't just a social expectation or a holiday tradition. They were her way of giving a little piece of herself and an important way to love others and acknowledge that she valued friendship and family and people. They were a gift from her heart, not just a piece of mail.
In her later years, I spent hours and hours in the card aisle with her looking for just the right card. She'd plop down on her walker and I'd help her by handing one and then another and another for some special occasion—a birthday, wedding, get well, holiday, to cheer someone up or to welcome a baby. We'd be there for a long time while she rejected many I picked so she could chose just the right one.
When we had to break up her home, the several—and I mean several—boxes of miscellaneous cards were non-negotiable stay-with-her boxes. Some went in her closet. Extra boxes into her storage unit. Hundreds of pieces of cardstock that were chosen with love and care for others. She never got to send them all, but she bought each and every one of them with love and for a purpose—to bless someone else and cheer up their day and show that special person she cared.
That's who Mom was. Someone who cared. Someone who loved people. Someone whose life touched ours in a special way. I think that Hallmark lags way behind my mom in the caring, touching, loving category. She is number one.
So every time you pass the greeting card aisle or get a birthday card, a Christmas card, or any card at all, remember Mary Dowe and thank God that she touched your life. She's not just my Hallmark Mama.
She's our Hallmark Queen of Hearts!
SaveSave
SaveSave
by