Heirlooms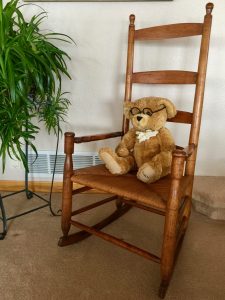 "Like branches on a tree, we all grow in different directions, but our roots keep us all together."—author unknown
Whether it's a quilt, a woodcarving, lace, furniture, Christmas ornaments, trinkets, pocket watches, recipes, photos, paintings, portraits, dishes, decorations, military memorabilia, etc., an heirloom is something valuable that is owned and passed down from one generation to another. That's one of the many reasons I wrote, The Fabric of Hope. It's about a family heirloom that made its way to America, through Canada, all the way from Ireland!
I have several heirlooms that I treasure—my great-grandmother Susan's rocking chair. My grandmother's Singer sewing machine. Teacups and dishes, lace and trinkets, and, of course, my photos. My husband has quilts and afghans, furniture and recipes, pocket watches and military stuff.
Some were brought over on an Irish immigrant ship, as you'll read about in my novel. Some were made with loving and skillful hands, while others were bought as a gift by a loved one. All are treasures.
They matter, because they connect us to the larger story—of family, of history, of heritage. They hold memories of loved ones, pieces of our past that bond us to one another and help us remember where we came from. And all of that is good, even if there are family skeletons, painful relationships, or stories we'd rather forget.
Liam Callanon said, "We all carry inside of us, people who came before us." It is a part of who we are, and so are the things they passed down to us. So I'd like to suggest that you pull out the heirlooms you have, and tell your children about them, about the people who gave you those items, and show your family that you treasure the past. It's a connection you won't want to lose.
Do you have heirlooms that you treasure? I'd love to know!
Follow me on social media!