Authors & Friends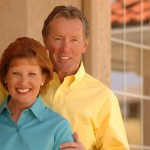 I take great joy in making sure he knows that he is loved—everyday—by God and by me. I count it as a blessing to walk through life with him—through the joys and through the challenges. And because God is the center of our marriage, I find strength and joy in the Lord, no matter what He brings our way.
Dale and I have had to navigate some tough health issues lately, and I'm sure glad Dale wasn't alone through all of this. I'm happy to be by his side, supporting and encouraging and lifting him up emotionally, spiritually, and sometimes even physically. That's part of the joy of marriage—and for us remarriage—giving our mate a living, breathing, faithful example of walking the walk and talking the talk, of living, loving, caring, and carrying each other through all the ups and downs.
For those of us who have lost a mate to death or divorce, we know how pivotal this faithfulness can be. We understand the joy it brings, and we appreciate every moment of every day that we get to experience it.
And for those who are struggling in marriage, please know that it can change. God can give you wisdom and love and strength beyond your ability. Hang in there, and ask God for His joy and His strength.
The joy of the Lord can surely be your strength (Nehemiah 8:10). How have you found joy in your marriage and God's strength to get through the challenges? I'd love to know.
Follow me on social media!