A Thousand Islands Vacation Planner
After reading my Thousand Islands Gilded Age books, dozens of you have said that the Thousand Islands is now on your Bucket List. So, to help you plan for your great adventure, I thought I'd give you some ideas of what to do while you're there.
The Thousand Islands sit in the St. Lawrence River on the border between northern New York State (USA) and southeastern Ontario (Canada). There are 1,864 islands, but to be an island, it has to have one living tree and stay above water 365 days a year. That can be a challenge when the water can rise several feet each spring.
As I write in my books, there's a lot of rich history in the islands. Gilded Age castles, mansions, and grand summer homes abound. Pirates and bootleggers once ruled the river where vacationers can now enjoy boat tours around the islands, see the area's beauty, and experience nature at its finest. If you take a boat tour, you'll pass by Pullman Island, setting for my novel, Katelyn's Choice, and the place where it all began when President Ulysses S. Grant visited.
Accommodations are many, from hotels to motels to campsites to private homes. You can find lodging on Air B&B and other sites. You can even rent entire mansions like Casa Blanca that was the setting for my book, Reagan's Reward. You also stay at Singer Castle, the setting for Devyn's Dilemma!
If the borders are open (ahhh…COVID), be sure to bring your passport and see the Canadian side of the islands. You can drive over the beautiful Thousand Islands bridge or take a ferry from Cape Vincent to Wolfe Island, Canada, the largest of the islands and the setting for two of my novels, The Fabric of Hope and Christmas Charity. In case the borders aren't open, I'm focusing on just the American side.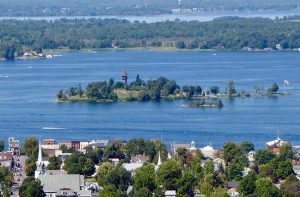 Susan's top picks:
Take a boat tour. There are several companies and lots of choices to see Millionaire Row, Singer Castle, Boldt Castle, Rock Island Lighthouse, and dozens of islands and Gilded Age mansions. You can take a sunset cruise, or a lunch or dinner cruise, too. All are fun, educational, and memorable.
Visit Singer Castle and Boldt Castle. Wow! The history and magic are worth every moment you spend there.
Visit the Cornwall Brothers Museum in Alexandria Bay, and the Thousand Islands Museum and Antique Boat Museum in Clayton.
Visit the War of 1812 historic Sackets Harbor, and the Rock Island Lighthouse and Tibbets Point Lighthouse.
Leave your diet behind. Dine by the river's edge and be sure to stop for ice cream at one (or several) of dozens of roadside ice cream huts. Yum!
Finally, be sure to enjoy the quaint downtown areas of Alexandria Bay, Clayton, and Cape Vincent. Whether you like boating, fishing, swimming, diving, mini-golf, batting cages, go-karts, arcades, a hedgerow maze, zoos, aquariums, golf, tennis, or guided fishing charters, there's so much to do. And do you enjoy special events? Try these: Bill Johnston's Pirate Days. Powerboat Poker Run. Blues in the Bay Festival. Fourth of July Fireworks over Boldt Castle. Fish Day in the Bay. Roaring '20s Weekend. The Cape Vincent French Festival held near Bastille Day on the second Saturday in July.
Ready to make plans? I am. Hope to see you there.
Follow me on social media!