Countdown for Couples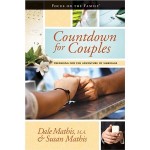 About our Book: Countdown for Couples: Preparing for the Adventure of Marriage  http://www.countdownebook.com
Available at CBD.com and Amazon.com.
"Countdown for Couples is a gold mine of information! It's packed with wonderful, practical ideas for couples looking forward to their marriage ceremony. In our case, it deepened our relationship after being married for 25 years!"—Alice S.
"Dale and Susan ask all the right questions in their book, Countdown for Couples. Engaged couples—and newlyweds—can learn to communicate about the practical and personal areas of their married life."—Johanna P.
~ ~ ~
Isn't it great? The thought of marrying the one you love; the ecstatic feelings of sheer happiness; the excitement of planning a wedding and counting down the days.
But wait! There's all that other stuff—the "for better or worse, for richer or poorer, in sickness or health, till death do us part"—the reality of daily living together stuff. Marriage is a huge commitment and not one to be taken lightly, so you're wise to assess and learn all you can before your big day.
Countdown for Couples will help you do just that. We'll review the basics, but we'll also go deeper and address things you may never have thought you needed—or wanted—to know or talk about. If you view premarital preparation as a countdown to an adventure, a journey deeper into the life of the one you're planning to marry, it'll be one of the most exciting and important things you've done together so far.
Research and common sense indicate that engaged couples will have stronger, more successful marriages if they participate in premarital counseling. Countdown for Couples addresses the issues of greatest interest and importance to engaged couples, delivers this insight in an easy-to-use format, and tackles many important questions. Before you begin the adventure of marriage, open the map and see where you're going.
Table of Contents…
1. A Marriage of Three: What's God's view of love and marriage?
2. Ready or Not: Are you ready for a lifelong commitment?
3. Surviving or Thriving: How do you meet each other's needs?
4. Great Expectations: What should you expect in your marriage?
5. Beautifully Different: Can differences be gifts from God?
6. Communication: How do you express love through words?
7. Rules of Engagement: How do you fight fair?
8. Let's Make Cents: How do you navigate your financial life?
9. A Productive Partnership: How do you handle the nitty gritty of daily life?
10. The Intimate Mystery: What's God design for sexual intimacy?
11. It's a Family Affair: Why is family such a challenge?
12. The Great Adventure: What do you do with the rest of your life together?
(Also in Indonesian and soon-to-be in Spanish.)
About the Authors:
Dale and Susan are authors of Countdown for Couples: Preparing for the Adventure of Marriage. Dale has two Master's degrees in counseling and has worked in counseling and Human Resources for over 30 years. Susan is the Founding Editor of Thriving Family magazine, the former Editor or Editorial Director of 12 unique Focus on the Family publications including the Focus on the Family magazine and the Focus on Your Child newsletters. She has also written hundreds of articles and columns for magazines and newspapers. Dale and Susan have worked with couples in premarital counseling and are mentors and facilitators for the Woodmen Valley Chapel Premarital class.